---
Overview
Daylight Clock is an Android app showing the full 24 hour day.
This stylish transparent Clock app and home screen widget shows the current hour with day and night indicated using shading. By combining nature with technology you can easily view daylight hours on a range of 24 hour analog clock faces.
The app has a built-in home page widget, just press the + button at the bottom of the Android home screen and select the Daylight Clock widget (available in small, medium, and large sizes). View the times for sunrise and sunset right on your phone's home screen.
Note: To save battery power, Daylight Clock does not turn on GPS. Instead it relies on your most recent GPS or Cell fix to compute sunrise and sunset times.
Review - 5 stars out of 5
Brilliant So useful, have this widget on my home screen never to be removed. As a photographer and a motorcyclist having the daylight hours available to see in such a comprehensive manner is key. Works perfectly. Galaxy s3 lte
Add the widget to your homepage
to see your day at a glance
Features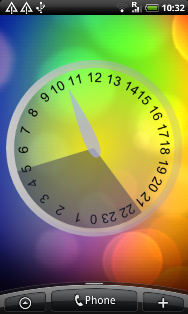 Day and night shading
Resizable widget
Custom faces
Broad compatibility
Daylight information
Compatibility
Android: Yes
Daylight Clock works on phones and tablets from Android 1.5 to the latest Android.
From Android 3.1+ the home page widget can be resized. For earlier versions there are three different sizes of widget available.
From Android 4.2+ the clock can be added as a Lock Screen widget.
The clock works best on phones where the GPS or Cell location is used to derive the sunrise and sunset times.
iPhone: No
Daylight Clock is not yet available for iPhone or iPad. Widgets are not supported on iOS and so a custom clock app would not be as useful as on Android devices. Please get in touch if you would be interested in an iPhone version.
Kindle Fire+HD: No
Because the Kindle Fire has an app launcher carousel as a home page, it is not possible to display home page widgets. Therefore we have not listed Daylight Clock on the Amazon Appstore. Do email if you would like Daylight Clock on the Kindle Fire or Kindle Fire HD.